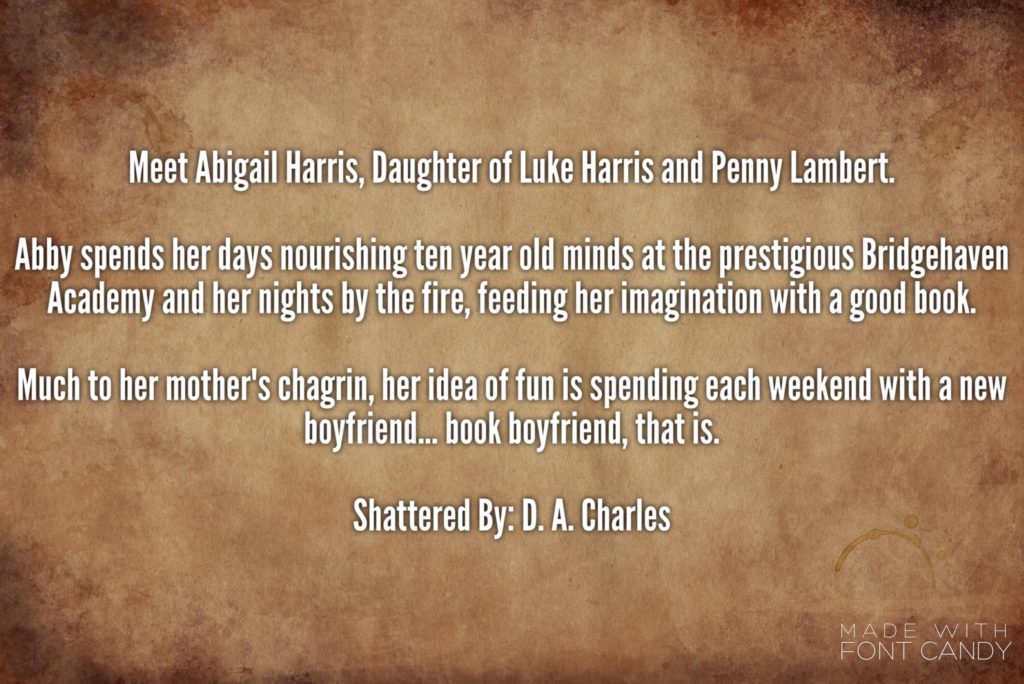 Meet Abigail Harris. Daughter of Luke Harris and Penny Lambert Abby spends her days nourishing ten year old minds at the prestigious Bridgehaven Academy and her nights by the fire, feeding her imagination with a good book. Much to her mother's chagrin, her idea of fun is spending each weekend with a new boyfriend… book boyfriend, that is.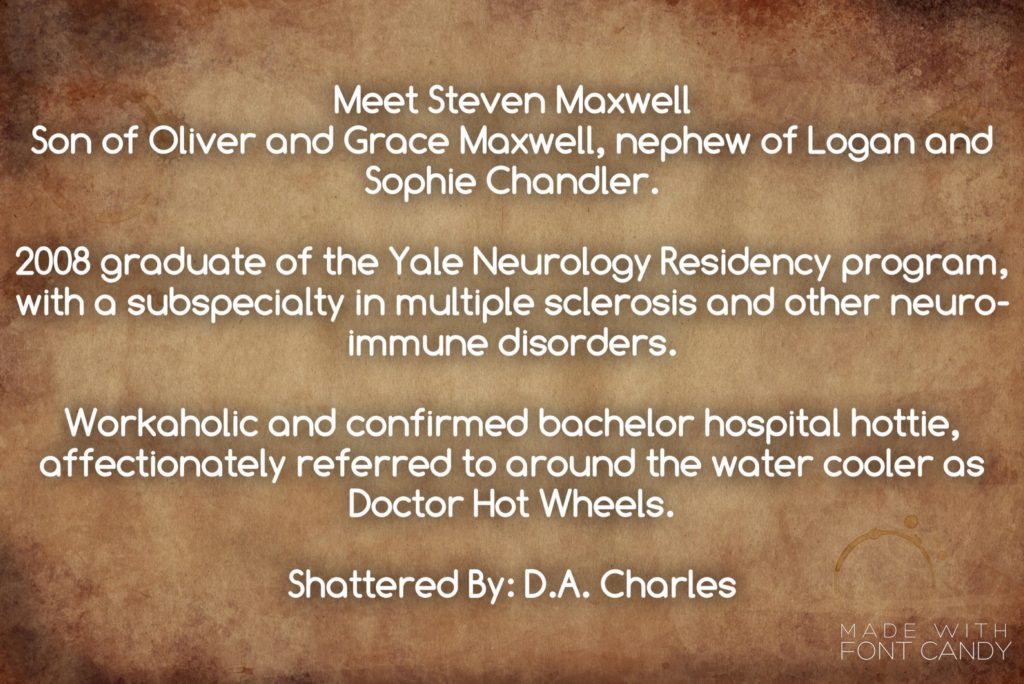 Meet Steven Maxwell Son of Oliver and Grace Maxwell, nephew of Logan and Sophie Chandler 2008 Graduate of the Yale Neurology Residency program, with a subspecialty in Multiple Sclerosis and other neuro-immune disorders. Workaholic and confirmed bachelor Hospital hottie, affectionately referred to around the water cooler as Doctor Hot Wheels.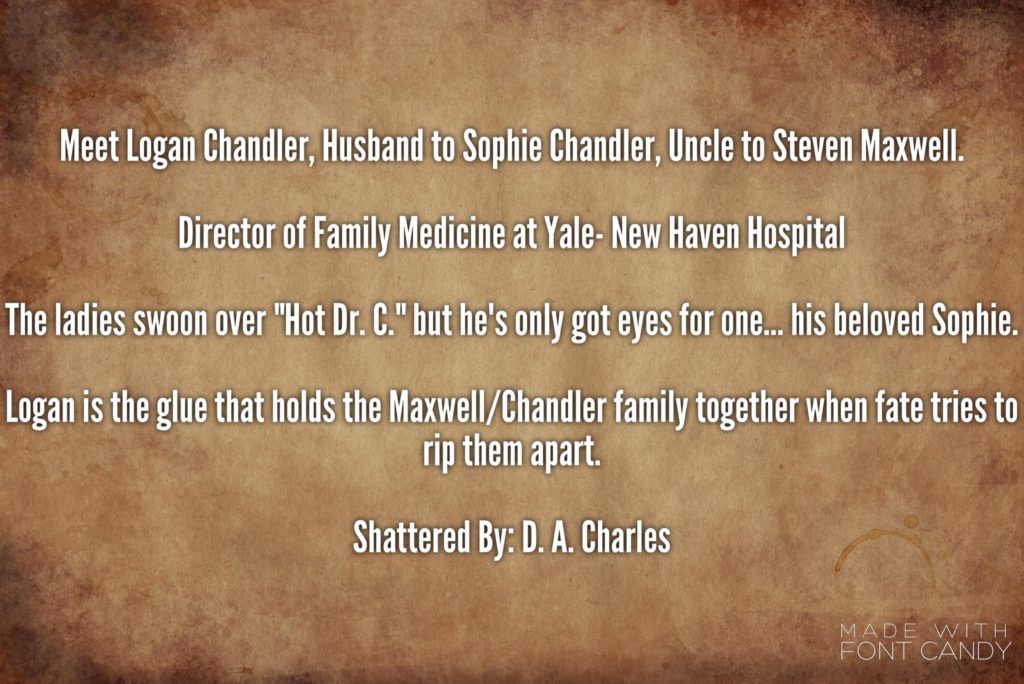 Meet Logan Chandler, Husband to Sophie Chandler, Uncle to Steven Maxwell. Director of Family Medicine at Yale- New Haven Hospital The ladies swoon over "Hot Dr. C." but he's only got eyes for one… his beloved Sophie. Logan is the glue that holds the Maxwell/ Chandler family together when fate tries to rip them apart.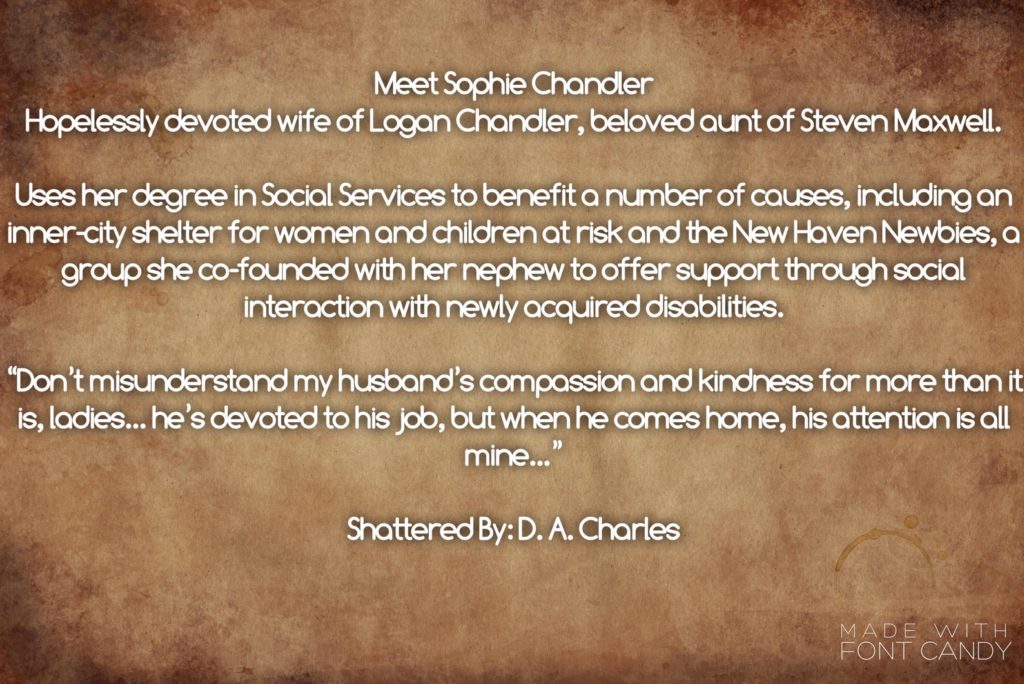 Meet Sophie Chandler, Hopelessly devoted wife of Logan Chandler, beloved aunt of Steven Maxwell. Uses her degree in social services to benefit a number of causes, including an inner-city shelter for women and children at risk and the New Haven Newbies, a group she co-founded with her nephew to offer support through social interaction for individuals with newly acquired disabilities. "Don't misunderstand my husband's compassion and kindness for more than it is, ladies… he'd devoted to his job, but when he comes home, his attention is all mine…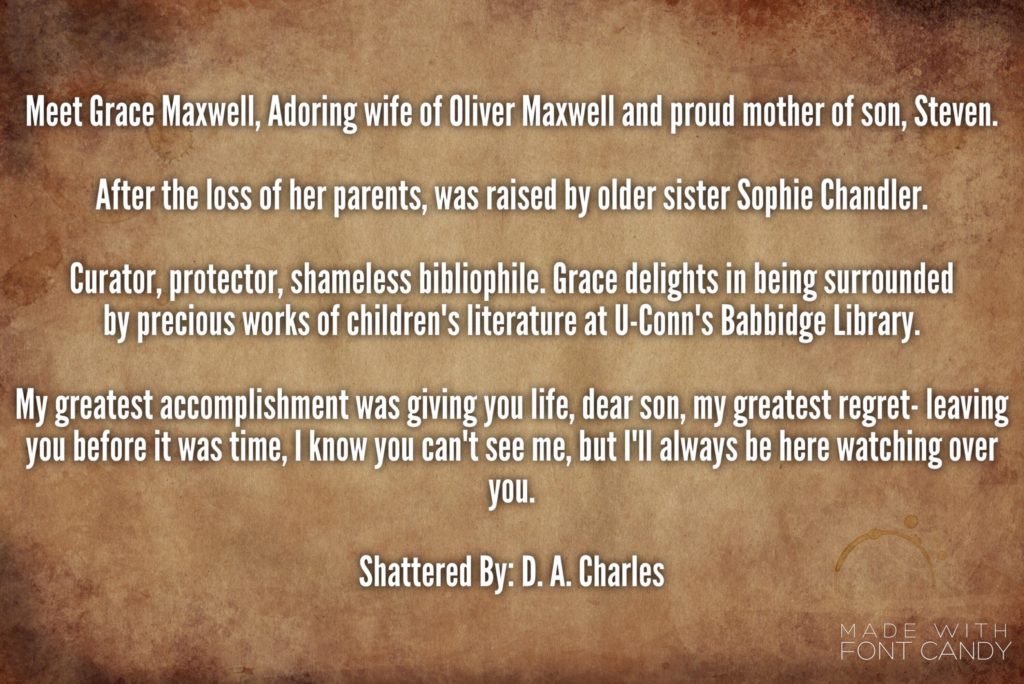 Meet Grace Maxwell… Adoring wife of Oliver Maxwell and proud mother of son, Steven. After the loss of her parents, was raised by older sister Sophie Chandler. Curator, protector, shameless bibliophile, Grace delights in being surrounded by precious works of children's literature at U-Conn's Babbidge Library. My greatest accomplishment was giving you life, dear son, my greatest regret- leaving you before it was time, I know you can't see me, but I'll always be here watching over you.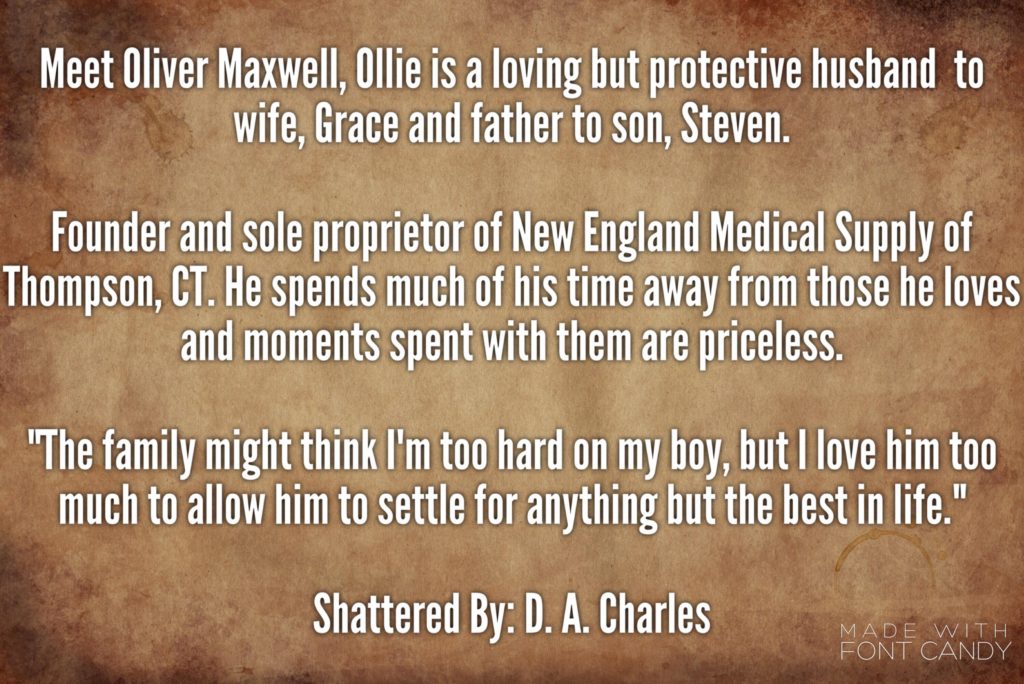 Meet Oliver Maxwell… Ollie is a loving but protective husband to wife, Grace and father to son, Steven. Founder and sole proprietor of New England Medical Supply of Thompson, CT, he spends much of his time away from those he loves and moments spent with them are priceless. "The family might think I'm too hard on my boy, but I love him too much to allow him to settle for anything but the very best in life."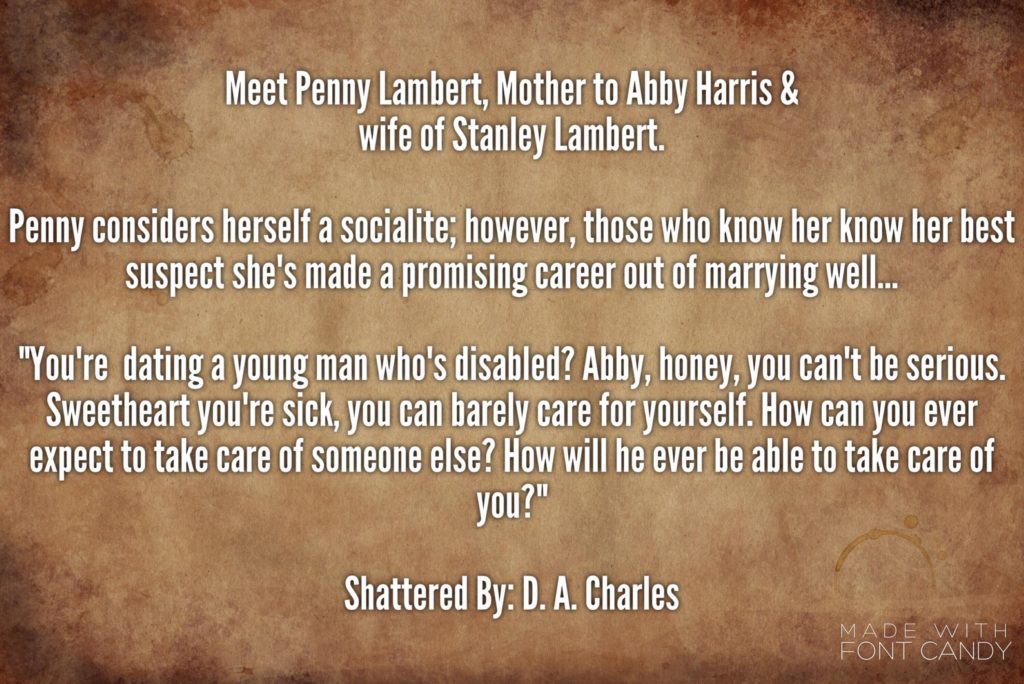 Meet Penny Lambert… Mother to Abby Harris & wife of Stanley Lambert. Penny considers herself a socialite; however, those who know her best suspect she's just made a promising career out of marrying well… "You're dating a young man who's disabled? Abby, honey, you can't be serious. Sweetheart, you're sick, you can barely care for yourself. How can you ever expect to take care of someone else? How will he ever be able to take care of you?"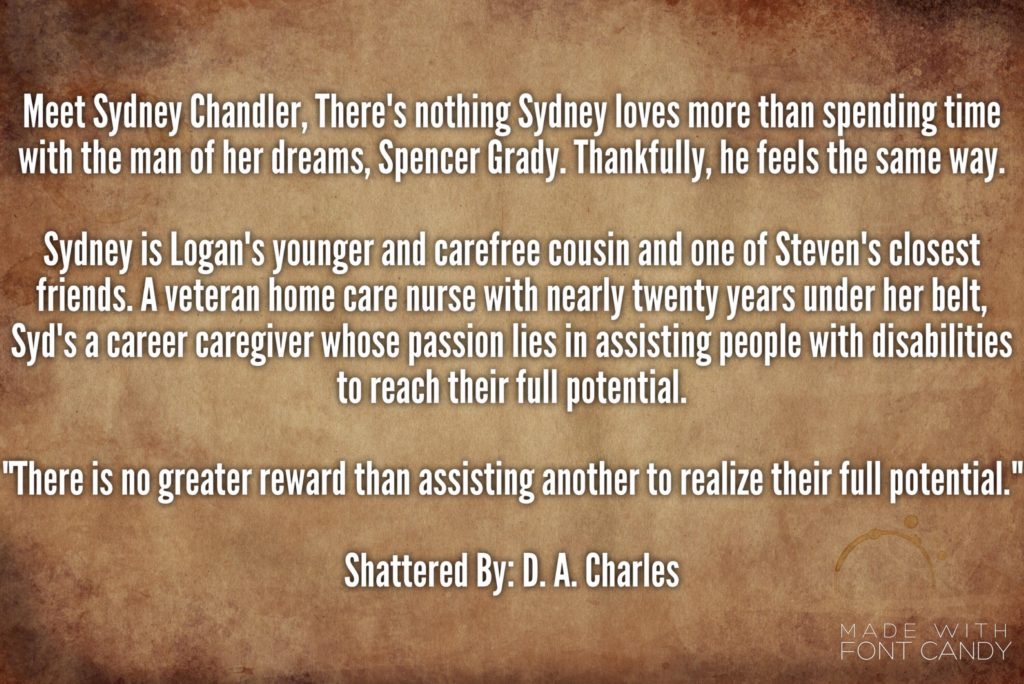 Meet Sydney Chandler… There's nothing Sydney loves more than spending time with the man of her dreams, Spencer Grady. Thankfully, he feels the same way. Sydney is Logan's younger and carefree cousin and one of Steven's closest friends. A veteran home care nurse with nearly twenty years under her belt, Syd's a career caregiver whose passion lies in assisting people with disabilities to reach their full potential. "There is no greater reward than assisting another to realize their full potential."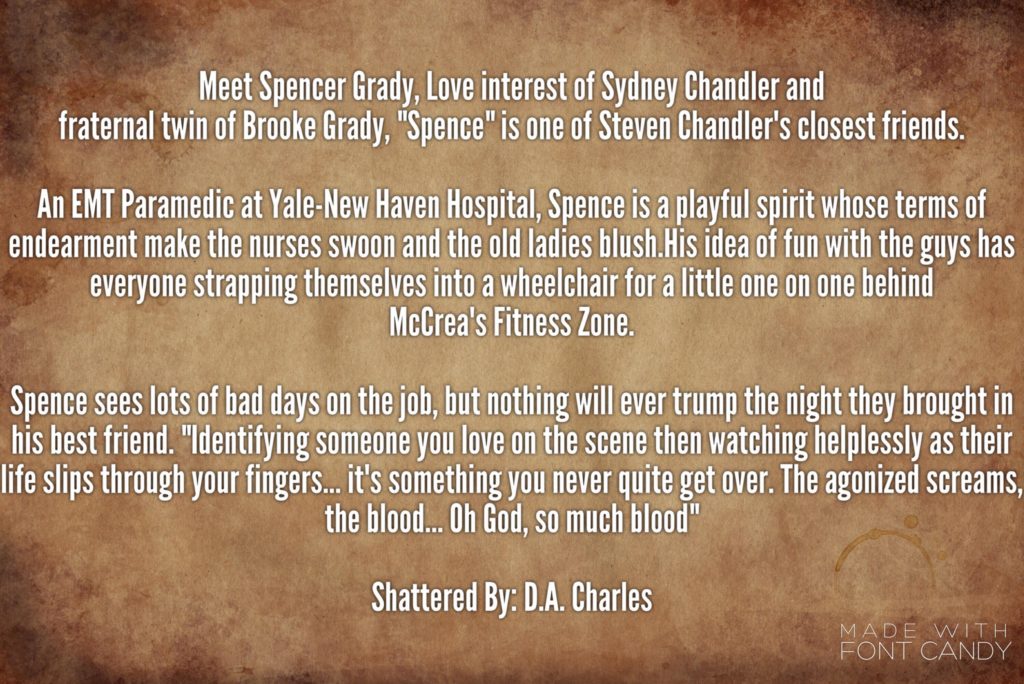 Meet Spencer Grady… Love interest of Sydney Chandler and fraternal twin of Brooke Grady, "Spence" is one of Steven Chandler's closest friends. An EMT Paramedic at Yale-New Haven Hospital, Spence is a playful spirit whose terms of endearment make the nurses swoon and the old ladies blush. His idea of fun with the guys has everyone strapping themselves into a wheelchair for a little one on one behind McCrea's Fitness Zone. Spence sees lots of bad days on the job, but nothing will ever trump the night they brought in his best friend. "Identifying someone you love on the scene and then watching helplessly as their life slips through your fingers… it's something you never quite get over. The agonized screams, the blood… Oh God, so much blood."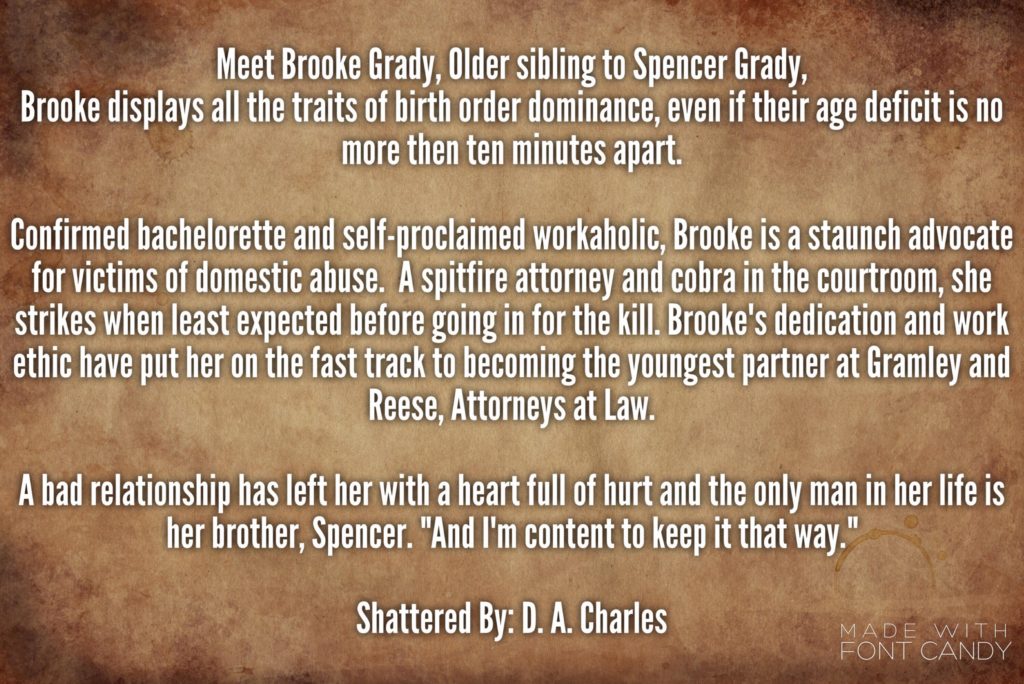 Meet Brooke Grady… Older sibling to Spencer Grady, Brooke displays all the traits of birth order dominance, even if their age deficit is no more than ten minutes apart. Confirmed bachelorette and self-proclaimed workaholic, Brooke is a staunch advocate for victims of domestic abuse. A spitfire attorney and cobra in the courtroom, she strikes when least expected before going in for the kill. Brooke's dedication and work ethic have put her on the fast track to becoming the youngest partner at Gramley and Reese, Attorneys at Law. A bad relationship has left her with a heart full of hurt and the only man in her life is her brother, Spencer. "And I'm content to keep it that way."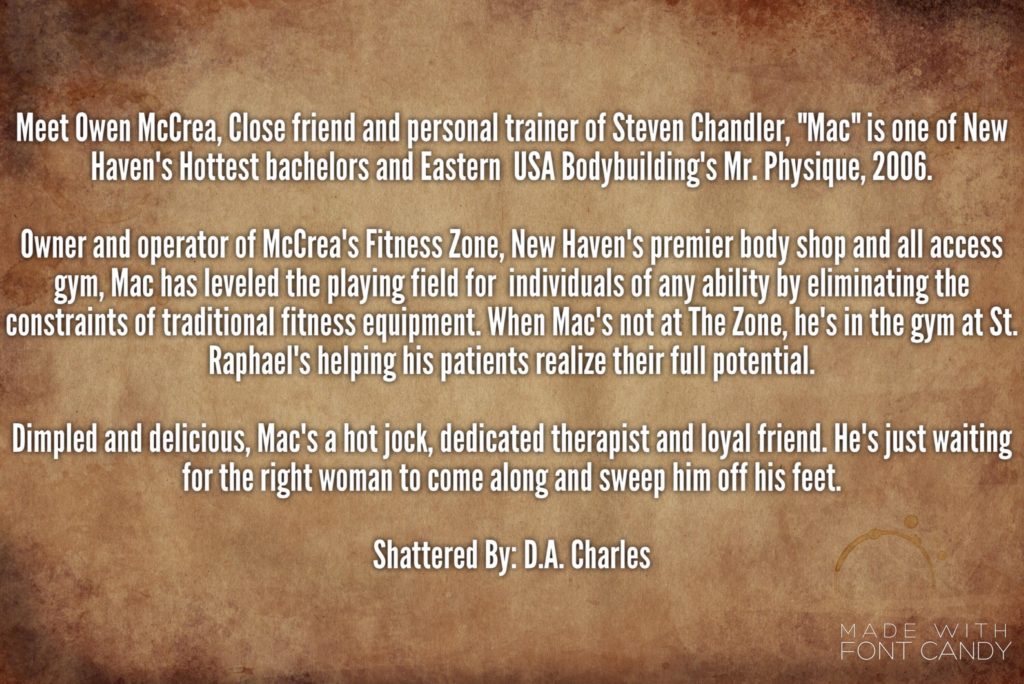 Meet Owen McCrea… Close friend and personal trainer of Steven Chandler, "Mac" is one of New Haven's hottest bachelors and Eastern USA Bodybuilding's Mr. Physique, 2006. Owner and operator of McCrea's Fitness Zone, New Haven's premier body shop and all access gym, Mac has leveled the playing field for individuals of any ability by eliminating the constraints of traditional fitness equipment. When Mac's not at The Zone, he's in the gym at St. Raphael's helping his patients realize their full potential. Dimpled and delicious, Mac's a hot jock, dedicated therapist and loyal friend. He's just waiting for the right woman to come along and sweep him off his feet."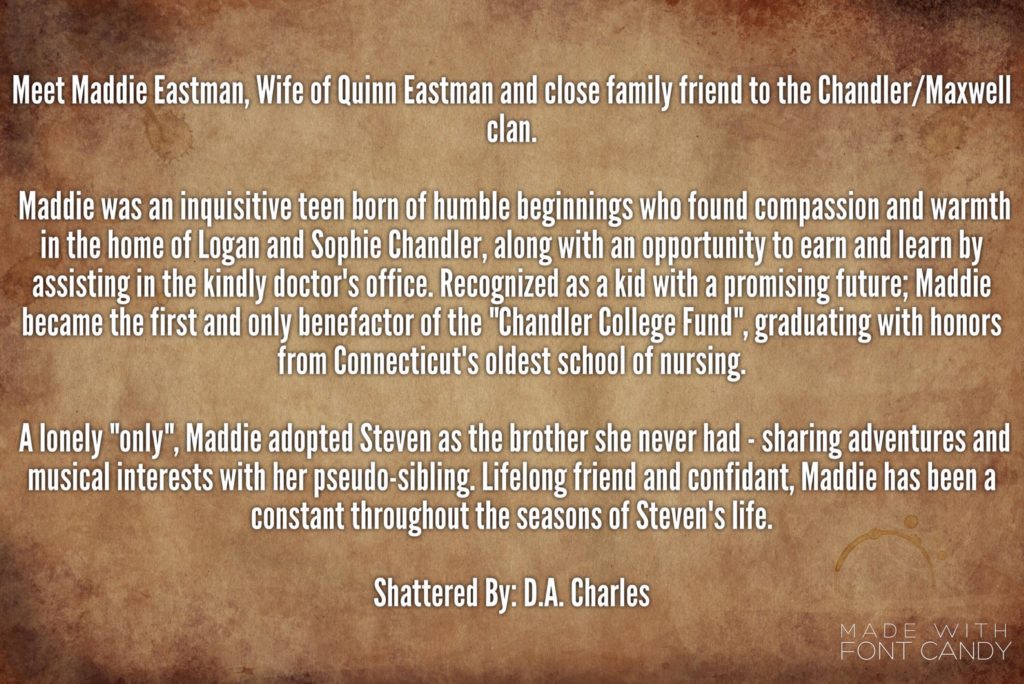 Meet Maddie Eastman Wife of Quinn Eastman and close family friend to the Chandler/Maxwell clan. Maddie was an inquisitive teen born of humble beginnings who found compassion and warmth in the home of Logan and Sophie Chandler, along with an opportunity to earn and learn by assisting in the kindly doctor's office. Recognized as a kid with a promising future; Maddie became the first and only benefactor of the "Chandler College Fund", graduating with honors from Connecticut's oldest school of nursing. A lonely "only", Maddie adopted Steven as the brother she never had—sharing adventures and musical interests with her pseudo-sibling. Lifelong friend and confidant, Maddie has been a constant throughout the seasons of Steven's life."